Case of success: Production of Ecobam Speed Bumps in Funosa Foundry
In Ecobam Europa we consider that the Production of ECOBAM Speed Bumps in Funosa foundry is a success project of collaboration between companies.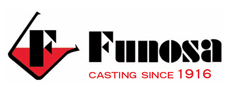 The Speed Bumps Ecobam RDV has been developed and produced in close collaboration with Funosa, one of the main foundry companies in Europe, they are leaders in foundry techniques and production capacities.
ECOBAM Speed Bumps have been produced in alloy of high quality nodular cast iron, which makes ECOBAM Speed Bumps the only products in the market that keep its shape and are indestructible.
The casting of the ECOBAM Speed Bumps in Funosa is made with the automatic molding system, which ensures physical and mechanical features and also perfect finishing and dimensions.
Funosa and its Know-How have been the key of the development and optimization of the production, achieving the business goals: the perfect physical and mechanical features needed to support the traffic in a comfortable and safe way, remove the maintenance services associated with materials like rubber and plastic, and obtaining reasonable production cost. All those factors permit us offer speed bumps with excellent quality and competitive prices.
The quality control and tests made by Funosa are assuring that all the products that leave the factory comply with the laws and quality criteria established beforehand.
The product's sustainability is really important for Ecobam Europa, this is one of the reasons that we used iron material for production of our speed bumps. The iron is a 100% recyclable material, actually, the melting process use the scrap from steel and iron as raw materials. This way these materials get a new life becoming Speed Bumps.
In addition, ECOBAM Speed Bumps are 100% recyclable, once they have been used for years they can be recycled to become new products, reducing the negative impact on the environment.
Thanks to the collaboration between Ecobam and Funosa, we get a high quality product, 10 years guaranteed, with a design which complies with the Technical Instruction FOM/3053/2008, a product that increases the safety in roads and cities of all over the world.