ECOBAM RDV ©, Discover the innovation applied on Road Safety.
Speed Bumps ECOBAM RDV manufactured with cast iron, including LED illumination system and inviolable fixing system ECOBAM FIX ©.
These three features convert the Speed Bump ECOBAM RDV in the product road safety and pacification of the most durable, visible and safe traffic market.
Speed Bumps Ecobam RDV are undeformable unlike rubber or plastic products, don't lose their physical properties, not broken and not lost ground anchors.
Road Safety Regulations FOM/3053/2008
If your country / state has specific regulation of speed bumps and their implementations, please contact us and we will analyze if our product accomplish your specific regulations.
Advantages
Ecobam products ® present next innovations:
High security
LED illumination System
Inviolable fixing system
Modular and easy installation system
Low cost of installation and maintenance
See Ecobam ® Products
Illumination
Ecobam Products have a LED illumination system, which increases the visibility of speed bump and assures faster and safer reaction of the drivers.
Legal and patented
Ecobam Products comply with the Spanish Regulation FOM/3053/2008, have the required quality and test certificates and they are protected under European patent.
Durability
The Ecobam Products are manufactured with ductile cast iron, a noble material, hard and ductile that assures a extremely high long life of the product.
Modular System
Ecobam has been designed as a modular system easing to adapt to any kind of installation, no matter the width of the road, we only have to add or remove out modules to the installation.
Efficiency
The use of speed bumps is recommended to slow down the speed of vehicles. With Ecobam speed bumps, drivers slow down faster, reducing the impact and deceleration produced by the speed reducer.
Different Variations
We offer different variations, depending on the installation, LED illumination, solar powered system, reflectors usage, inviolable or removal fixing system… We have a solution for every requirement.
Recent projects
Know the different projects and installations of ECOBAM products.
In this section you will find technical datasheets of the different products, and you will be able to know how the towns and companies replace their old rubber Speed Bumps with efficient ECOBAM products.
Recent news
Visit our News section and you will get information about the latest news related to the Road Safety and Ecobam Products.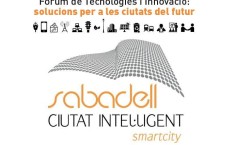 ECOBAM presented at the Technology and Innovation Forum in Sabadell the new proposal of the Traffic Speed Reducers cast iron with a 10 year guarante