Road Divider Ecobam SPV 150 Basic
Road Divider Ecobam SPV 150 Extended
The road divider Ecobam © SPV 150 is the only product designed specifically for road safety and active segregation of lanes. This road divider also improves safety through increased visibility of road markings and carry out the pathways by marking them with a LED lighting system.
Modules available
Initial Cap (Black or Bicolor)
Body (Black or Yellow)
Terminal Cap (Black or Bicolor)
Dimensions of Modules
Width: 6in (150mm).
Length: 9.8in (250mm).
Maximum Height: 3.15in (80mm).
Modules Combinations
SPV 150 Basic: 19.7in (500mm).
SPV 150 Standard: 29.5in (750mm).
SPV 150 Extended: 49in (1250mm).
4 Functions in 1: Segregation of lanes, road sign, marking of way, street lighting
Ecobam SPV 150 ® is designed to actively segregate different vials, lanes or areas increasing the road safety.
Suitable for:
Separation of vehicle lanes, bike lanes, pedestrian paths and access to roads.
Delimitation of guide rails and lighting in parking areas, commercial areas, pedestrian zones, industrial loading docks, marinas, boardwalks.
If you need further information about the product you can:
The main benefits offered by the road dividers Ecobam © SPV 150 are:

Outstanding durability of the product, manufactured in Cast Iron , is indestructible.

Improved safety thanks to its LED lighting system that increases visibility of road. Also available with reflectors modules.

Effectiveness, installation ensures active separation of lanes and / or delimited areas.

Sustainability, LED lighting system with low energy consumption and 100% recyclable materials.

Modular system allows the extension of the product to adapt to the needs and characteristics of each route by coupling modules.

Integrated, connected by sections to the public lighting system or to a solar panel.

Quick and easy to assemble, doesn't require qualified personnel or heavy machinery.

10-year warranty on metal components and elements of inviolable fixing system ECOBAM Fix ©.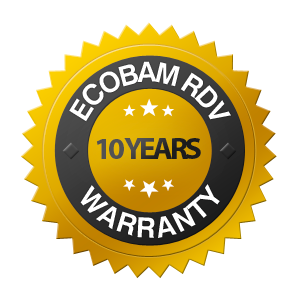 See Road Divider Ecobam SPV 150 tecnical datasheet